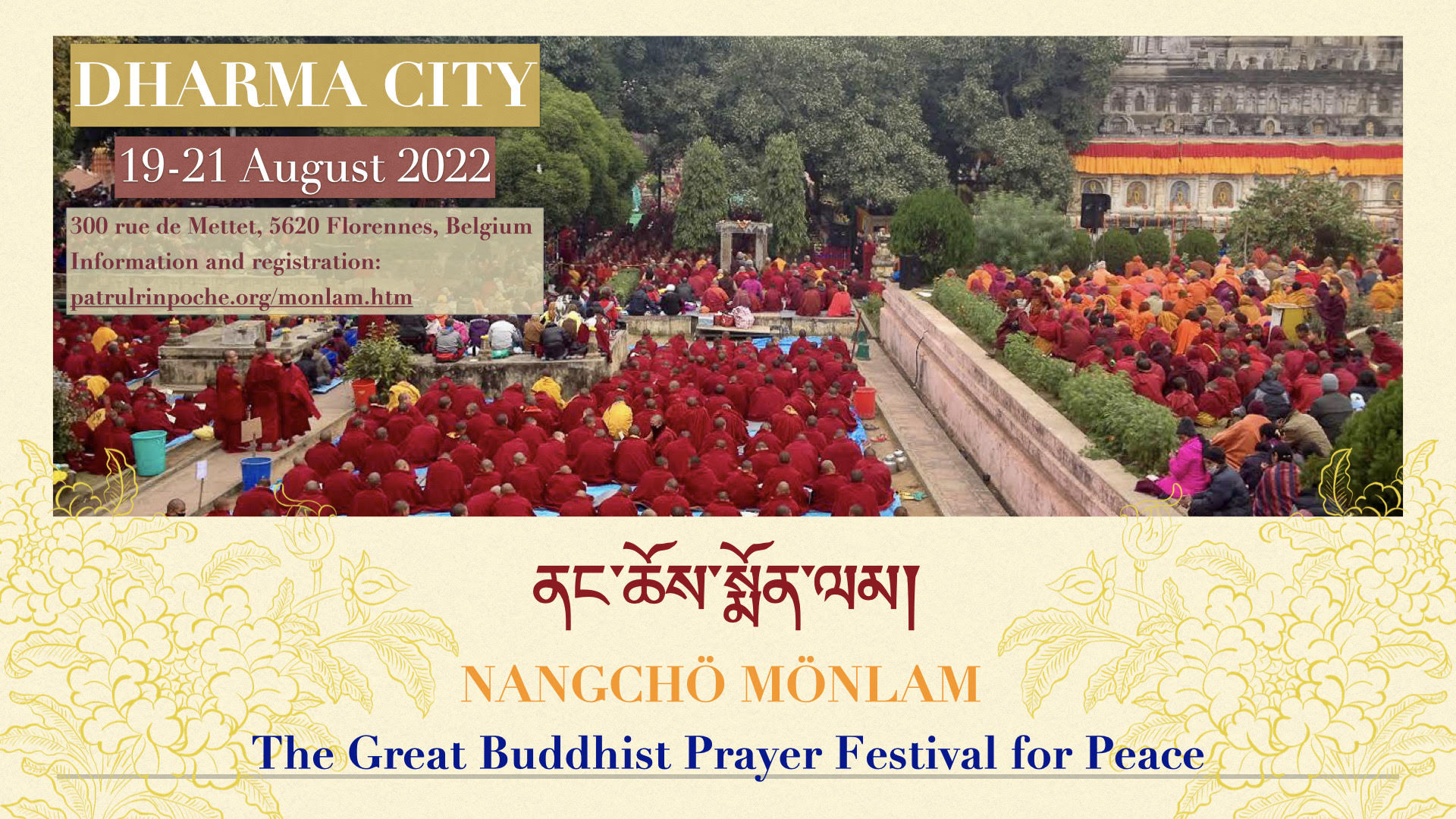 Nangczio Mynlam ནང་ཆོས་སྨོན་ལམ། / Dharma City Belgia / 19-21 sierpnia 22
Z radością pragniemy poinformować o pierwszej edycji Nangczio Mynlam ནང་ཆོས་སྨོན་ལམ། — Wielkiego Festiwalu Buddyjskich Modlitw o Pokój , który odbędzie się w Dharma City 19-21 sierpnia 2022 z udziałem Patrula Rinpocze. Mynlamy to modlitwy aspiracji wyzwolenia wszystkich istot z wszelkich form cierpienia takich jak wojny, epidemie, fizyczny ból, cierpienie mentalne oraz życzenia wszystkim trwałego pokoju.
To nie tylko wartościowiowo spędzony czas ale i radość z powodu możliwości modlenia się razem i faktycznego przynoszenia pożytku wszystkim, którzy mają związek z tymi modlitwami. Co więcej, to również ćwiczenie umysłu w utrzymywaniu altruistycznej motywacji.
The mönlams will also be broadcasted online (information for the life-stream will be published later).a
Patrul Rinpoche has expressed the wish that the mönlam be a donation-based annual event. It means that participation is free of charge for participants, and that all costs are covered through donations. You are welcome to make a donation, general or specific, according to your possibilities and wishes.
The term 'mönlam' also refers to the tradition of Mönlam Chenmo, the great prayer gathering that has historically been part of Tibetan New Year celebrations for more than 600 years. Over the last few decades, the mönlam tradition has been revived and greatly enriched. Multiple Mönlams are held at different times during the year in Tibet, India, Nepal, and Bhutan—and recently in the West.
The Nangchö Mönlam —the Great Buddhist Prayer Festival for Peace— is the first ever organised in Belgium.
–