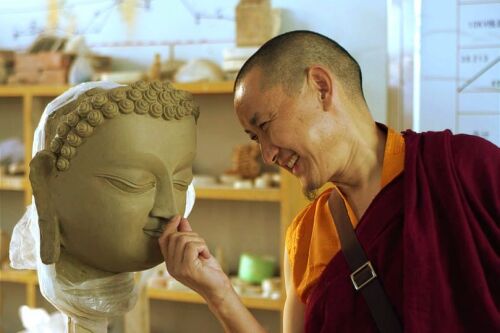 Understanding Buddhism / Dharma City & online / 8 Sundays Oct Nov Dec 22
Understanding Buddhism
Philosophy, daily life, practices
This course of 8 classes (8 Sundays 10 am – 12:30 am and 2pm to 3:30 pm Brussels time) will allow you to discover or rediscover the basis of Buddhism.
The course will explain philosophy, the conduct, daily life and meditation of a Buddhism.
Physically, the course will be given by Patrul Rinpoche in Dharma City but will be broadcast online. Patrul Rinpoche is a great and experienced Buddhist master.
Dates
October 9 & 16
Novembre 13, 20 et 27
Decembre 4, 11 et 18
Languages
Patrul Rinpoche will teach in Tibetan and English.
On site a French translation will be organised.
On line more languages will be available (see below).
Schedule
Schedule on site
We propose that you stay with us the whole Sunday 😊 – here is our plan:
10 am – 12 am: teaching (including a break)
12 am – 1 pm: voluntary work in Dharma City
1 pm: lunch (see below)
2 pm – 3:30 pm: teaching
3:30 – 3:45 : sharing our understanding in small groups
4 pm – 5:30 pm: voluntary work in Dharma City
5:30 pm : tea together.
Schedule online
10 am – 12 am: teaching (including a break)
2 pm – 3:30 pm: teaching
Lunch
It is possible to eat in Dharma City's  tea house.  A meal will be available for students of the course for 10 euros (not including drinks) upon reservation. To book a meal, please send an email to info@zpi.patrulrinpoche.net until the Thursday preceding the course.
nb: if you did not make a reservation, it is still possible to eat 'à la carte'.
Online course
The teachings will be broadcasted on  https://www.youtube.com/c/DzogchenRanyakPatrulRinpocheEN
Subsequent translations are organised.
Speaker