'Searching for self-liberation'
Dzogchen Ranyak Patrul Rinpoche
Patrul Rinpoche
Zangdok Palri Institute
Dharma City
Wisdom Treasury
New publications available now: An Essential Compilation of Practices and Prayers In the Longchen Nyingthik Tradition |  The Wisdom of Rigpa, composed by Patrul Rinpoche | Advice to Kunzang Chögyal and  The Heart Treasure of Authentic Beings written by first Patrul Rinpoche | Nangchö Mönlam prayer booklet| and many others Wisdom Treasury...
read more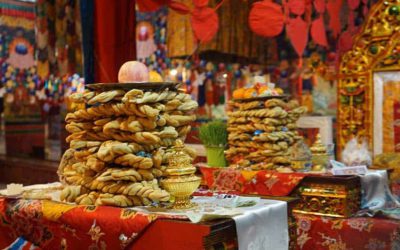 Happy Losar! We are delighted to announce that we can celebrate Losar together in Dharma City 21 February. May this coming year of Water Rabbit be auspicious for all sentient beings! Tibetan New Year, also known as Losar, is an important festival for Tibetan Buddhists in Tibet, Nepal, Bhutan, and...
The preparatory course will take place 22 and 23 February. During this time participants will be informed about how to take part in the drubchen. We will revise how to read the sadhana, what to do in particular sections, how to sing, how to act and so on. Participants will be informed how to play...
After meditation, Lopon Jampa Norgyal will shed some light on the representations and objects that are in the temple. A perfect morning to discover Dharma City and enjoy the lunch menu in the Teahouse. The guided tour is free of charge.
The Words of My Perfect Teacher
A Complete Translation of a Classic Introduction to Tibetan Buddhism. Patrul Rinpoche makes the technicalities of his subject accessible through a wealth of stories, quotations, and references to everyday life.
HOW TO FOLLOW A SPIRITUAL FRIEND
Part 1 – Chapter 6
ACTIONS: CAUSE AND EFFECT
Part 1 – Chapter 4
Taking Refuge
Part 2 – Chapter 1
AROUSING BODHICITTA
Part 2 – Chapter 2
[/et_pb_column]
Which one is your favourite chapter?
An invitation by Patrul Rinpoche to gather for a celebration of wisdom, diligence, aspiration and faith, indulging in the supreme food of a hundred tastes and savouring the flavours of nirvana.Enjoy the Party of Profound Samadhi Written by Patrul Rinpoche 2007    Oh, Guru Rinpoche, think of me! The West is endowed with the four types of...
read more
"We can free ourselves from any kind of suffering if we understand the true nature of mind."
Rinpoche agreed to teach in Dharma City the following courses:  Rigdzin Dupa Drubchen, 24 Feb-04 March 2023  |  Shedras 2023: 4-13 August Cycle3,...
read more